Thank you to everyone who attended the State of our Union / State of our Schools conference on Saturday, October 24th.
More than 170 UFT members, parents, and students attended the conference which launched the candidacy of Jia Lee for President of the UFT. Jia will top the MORE/NA slate in the 2016 union elections.
November MORE General Meeting -

Saturday 11/21 12pm-3pm

- YaYa Network (224 w. 29th)
Platform Committee Meeting -

Wednesday 11/11 6pm

(CUNY Grad Center, 365 5th Ave.)

Divisional Committee Meetings to shape our slate (RSVP for location):

High School -

Wednesday, 11/11, 12pm

Middle School -

Wednesday, 11/11, 10am

Elementary School -

Sunday, 11/8, 10am
Fed up with overcrowding, underfunding, and overtesting, educators are coming together with the community to take back their union and bring change to their schools.
"Our schools are in crisis, in large part part because our current union leadership is complicit in bad policy and continues to tell us that this is the best they can do....
It's not the time for us to re-negotiate what has already proven to be disastrous. It's time for teachers to come together with the community and chart a new course for our union. We are going to take back our union and lead a fight for the schools our children deserve," said Jia.
Saturday's

conference was the first step in defining a platform for the upcoming UFT election. Look at your emails in the coming days to see a summary of the suggestions generated at conference discussions ranging from "Bringing Democracy to the UFT" to "Making Black Lives Matter in Education." Also, check out the video of Lauren Cohen's powerful plenary speech on our blog.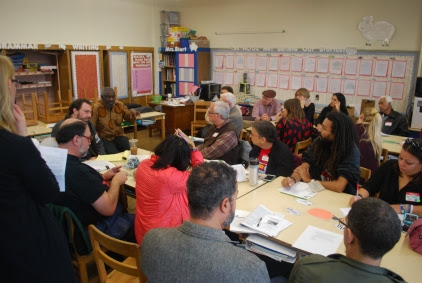 Conference participants debated important issues facing education at 18 different workshops
Lunchtime meetups amongst local organizers led to important conversations about how to change the future of our union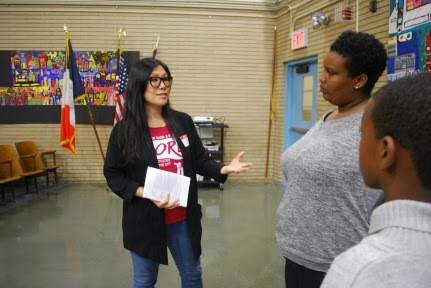 Jia Lee talks about defending public education to a parent and student at her school who were pushed out of the Moskowitz Success Academy